The Virtual Learning Lab had the aim of involving stakeholders from the three sea basins AQUA-LIT is focus on (Mediterranean, North and Baltic Sea) and exchange ideas, experiences and knowledge about the issue, from the three different contexts. Participants profile ranged from policy makers, researchers, farmers, NGOs and innovators from many different countries in Europe.
After a short introduction of the project, the AQUA-LIT Team opened the floor to participants and invited them to share their ideas, opinions and knowledge guided by specific questions related to the three main phases to tackle marine littering, discussed also in the past Learning Labs: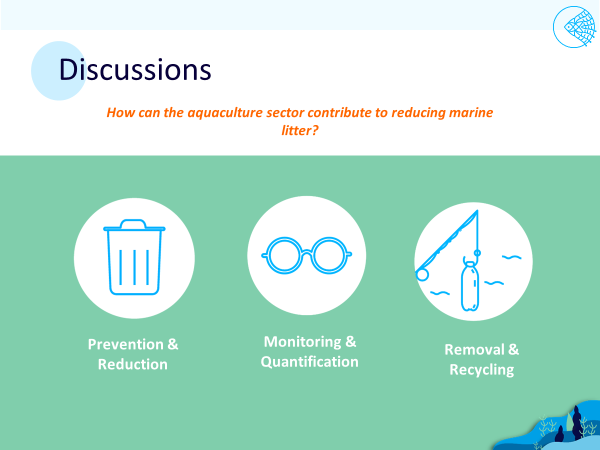 Great outcomes were collected after four hours meeting. Litter and material lost monitoring systems should be implemented and made compulsory for any aquaculture facility. Drones and new technologies can be explored as potential tools for monitoring and removing litter, and national funds on litter management and monitoring could incentivise aquaculture stakeholders to make use of best practises. Aquaculture gears should be produced with entirely recyclable material, and when not possible, a biodegradable solution can be taken into consideration. Waste collection and recycling systems should be improved, enhancing collaboration between sectors (e.g. fisheries and aquaculture) and making compulsory the installation of waste collection points close to every aquaculture facility.
More awareness on aquaculture litter impact should be divulgated, together with both bottom-up and top-down marine litter solution approach.
Results of the Learning Lab will feed the AQUA-LIT learning labs reports and the coming soon AQUA-LIT Toolkit.
AQUA-LIT team thanks all the participants of the four Learning Labs for having shared inputs and great ideas with us!