REGISTRATION NOW OPEN!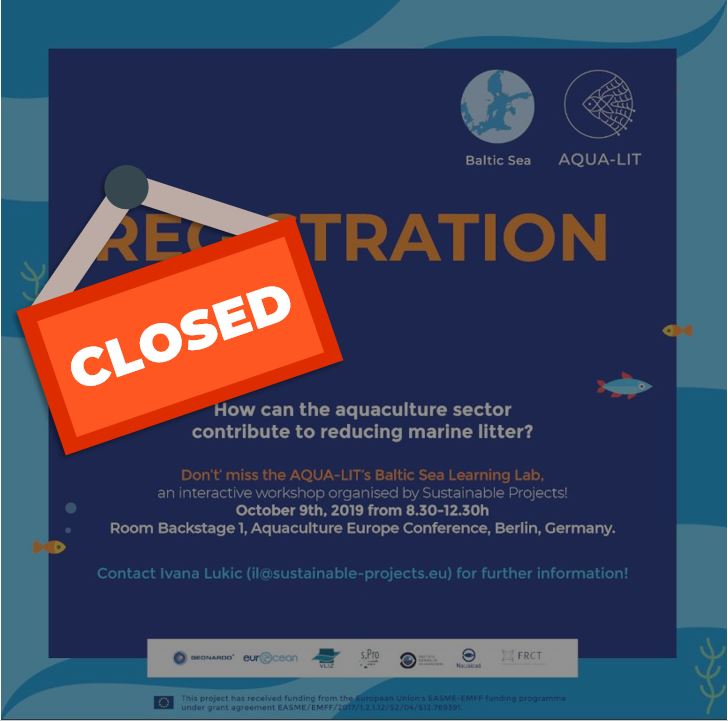 *Check the bottom of this page for the updates on post-Learning Lab
The Learning Lab will take place in Berlin on Oct 9 back-to-back with the Aquaculture Europe 2019.
Where? ROOM 30541 wing3
When? 9.00-12.30h
Those interested are invited to fill in the registration form: https://forms.gle/Q1QD2ULj3bLHibmB7
The Learning Lab will have a highly interactive format encouraging participants to exchange their insights and opinions about the issue of litter in aquaculture and discuss possible solutions.
This workshop will be interdisciplinary in nature. Apart from those working directly in the aquaculture sector, this workshop is also well suited to those focused on topics of waste management, environmental protection and business development.
This will also be an opportunity to learn about the AQUA-LIT project results and hear from the experts in the field. If you wish to briefly present your company, business model, research, or idea related to issue of litter in aquaculture please contact il@sustainable-projects.eu with the brief description of your presentation proposal.
Already registered?
| | |
| --- | --- |
| | You can further check out the programme for the day here. |


Post-Learning Lab
Did you join us in this #AquaLitLab?
You can check the material we presented here:
State of Play

Short overview on the LLs

Thanks for your valuable input!
We will publish the results together with those from the upcoming Mediterranean Sea and North Sea #AquaLitLab. So stay tunned!