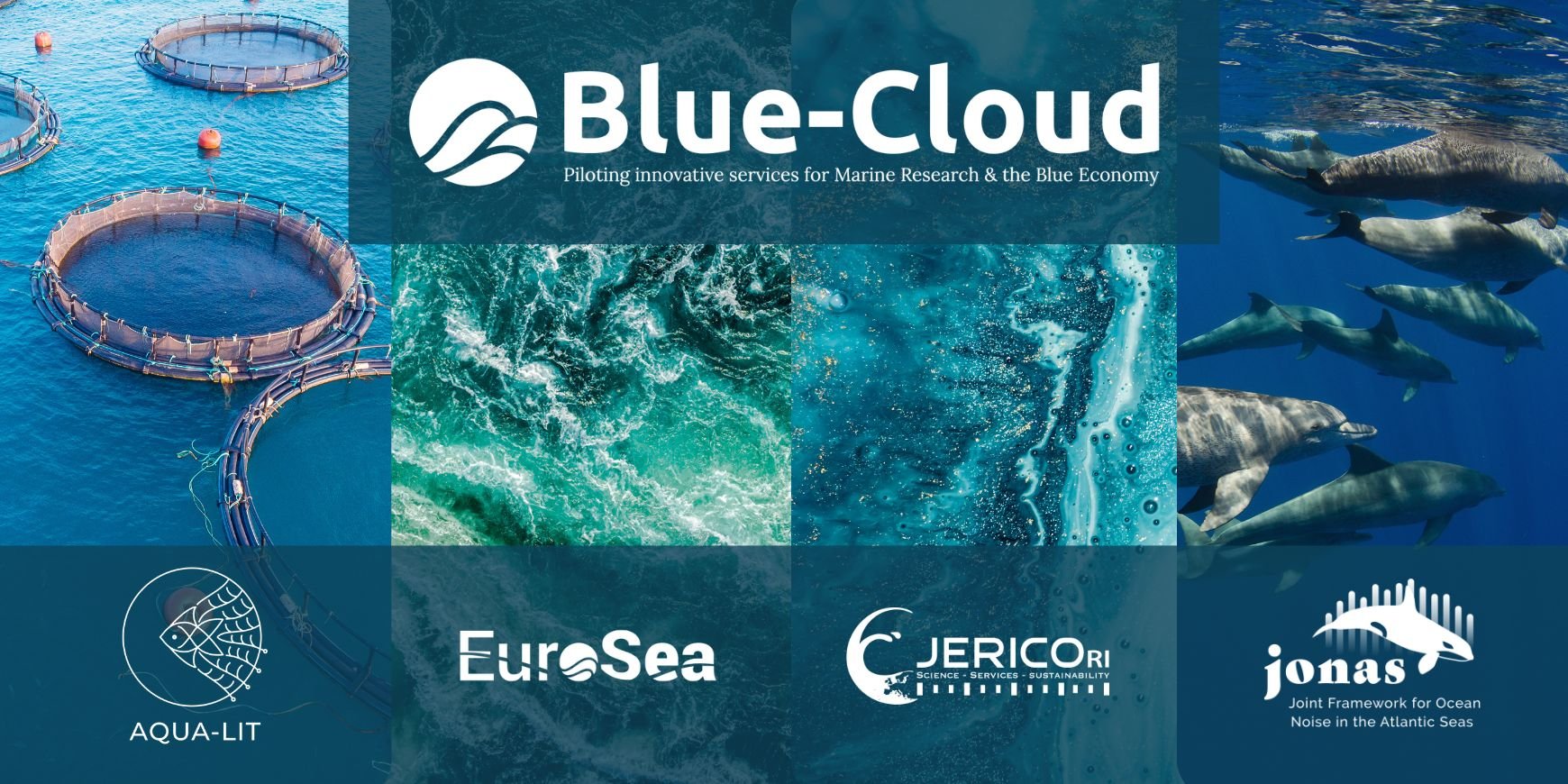 Our joint efforts are focused on:
Connecting Data to key European Data Management service providers via Blue-Cloud
AQUA-LIT worked on providing a sustainable toolbox of innovative ideas and methodologies that prevent marine littering from aquaculture activities entering the ocean. Our data sources can be integrated in the Blue-Cloud dataset through the EMODnet Chemistry infrastructure, helping increase, in this way, the quality of marine litter data. At the same time, AQUA-LIT will access more information that helps the team understand how aquaculture activities are littering the ocean through monitoring and quantification frameworks.
Usage and exploitation of Blue-Cloud VRE services
Uptake and new ways of usage of Blue-Cloud services has been assessed in the collaboration frameworks. In the case of JERICO, the pan-European multidisciplinary and multi-platform research infrastructure dedicated to a holistic appraisal of coastal marine system changes, a dedicated Virtual Research Environment (VRE) was created on the Blue-Cloud open science platform to allow their team to explore a possible technical integration of the data and products offered by the JERICO-Research Infrastructure into Blue-Cloud, with mutual benefits in terms of users, customisation of the products and access to data.
The creation of a VRE might also serve the needs of the JONAS project, addressing the risks of these acoustic pressures on marine biodiversity by improving ocean noise monitoring and risk prediction, and of the EuroSea initiative to improve forecasting systems. Discussions are ongoing to check whether setting up a Virtual Research Environment can be useful, in the meantime Blue-Cloud, JONAS and EuroSea are gaining mutual access to the data of their VRE. By collaborating with Blue-Cloud, EuroSea can improve the European ocean observing and forecasting system in a global context, getting access to a wider range of oceanic FAIR data, and Jonas can perform better analysis to improve ocean noise monitoring and highlight the risks of acoustic pressures on marine biodiversity by accessing the Blue-Cloud data in addition to the ones collected by Jonas.
Contributing to shaping the Blue-Cloud Roadmap
The four projects all provided insights and recommendations to Blue-Cloud for shaping its about the development of the project's strategic Roadmap to 2030. Their suggestions were taken into account in positioning the Blue-Cloud open science platform and its services into the EU marine knowledge value chain.
Joint dissemination and communication activities
Last but not least, AQUA-LIT, EuroSea, Jonas, JERICO and Blue-Cloud support each other in dissemination and communication activities to share the projects' results and reach a broader community.
These joint efforts are strategic to help Blue-Cloud increase and improve its service offer, namely the aquaculture data quality of the Blue-Cloud Virtual Labs Aquaculture Monitor and Marine Environmental Indicators. They also support the development of a long-term sustainable action plan in the aquaculture, ocean noise monitoring, marine coastal science and ocean observing and forecasting systems fields.
Find more info here:
https://blue-cloud.org/news/long-term-collaborations-marine-research-open-science