Issue #5 - November 2020



QUOTE OF THIS ISSUE
"We are facing nothing less than the collapse of the living world. The very thing we rely upon for every element of the lives we lead. No one wants this to happen. None of us can afford for it to happen.".

―
Sir David Attenborough

FROM AQUA-LIT TEAM
Hello Ocean Lover!
We are almost reaching the end of our great AQUA-LIT adventure, but this is not our last goodbye!
Crucial and important appointments are coming soon, and the AQUA-LIT Toolbox is almost ready to be launched!
Throughout November three webinars will be conducted in different languages (Portuguese, Spanish, Italian) presenting AQUA-LIT main results and a preview of our Toolbox. A final webinar will be conducted in English in December, gathering all stakeholders around Europe.
We have a list of solutions and innovative ideas on how to tackle marine littering from aquaculture activities, concrete policy recommendations, a database of potential funding opportunities for bright ideas and project for fighting marine litter, actions plans for Portugal, Azores and Canaries islands, and many others relevant outcomes, all findable in our coming soon AQUA-LIT Toolbox!
Stay tuned for further announcements, and in the meantime let your imagination feel inspired by the last spectacular movie from the most famous voice in the world, Sir David Attenborough in Life on Our Planet!
We hope you enjoy the read,
AQUA-LIT team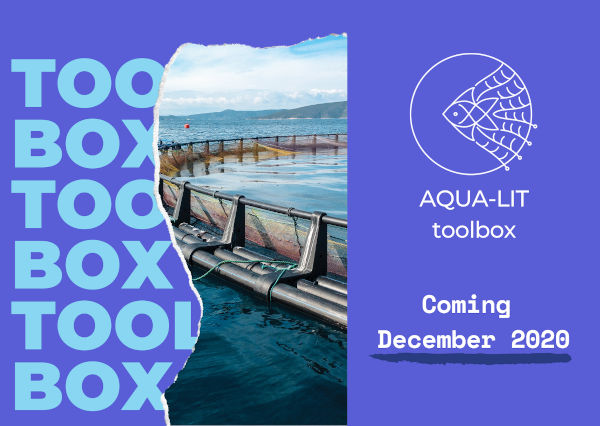 RELEVANT NEWS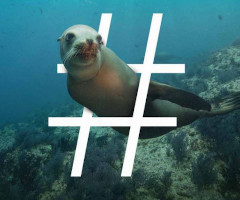 #STOPGHOSTGEAR, THE NEW WWF REPORT ABOUT ABANDONED, LOST AND DISCARDED FISHING GEARS

One of the most damaging types of marine plastic pollution is abandoned, lost, or discarded fishing gear—commonly called "ghost gear." The WWF has just published a new report #StopGhostGear which shines a spotlight on the problem and offers tangible solutions.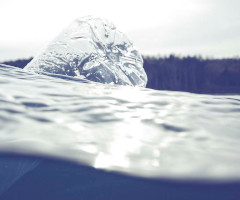 A VIABLE PATHWAY TO 'BREAK THE PLASTIC WAVE'

Research Finds Plastic Flows into the Ocean Expected to Triple by 2040—but Immediate Action Could Stem Tide by More Than 80%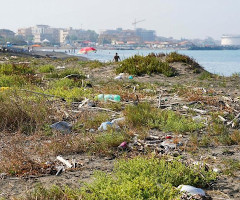 'AMBITIOUS' MEASURES NEEDED TO STOP 200,000 TONNES OF PLASTIC POLLUTING THE MEDITERRANEAN

More than 200,000 tonnes of plastics are being leaked into the Mediterranean Sea every year, according to a new report from the International Union for the Conservation of Nature (IUCN).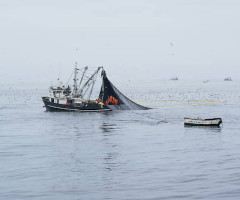 ASSESSING EL NIÑO'S IMPACT ON FISHERIES AND AQUACULTURE AROUND THE WORLD

New report presents the main regional consequences caused by the five types of the climate pattern

AQUA-LIT NEWS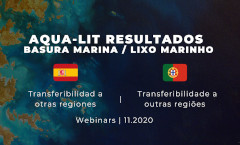 AQUA-LIT RESULTADOS - PT & ES
¡Únete a nuestro webinar en Español sobre la utilización de la caja de herramientas para mejor manejo de la basura marina! // Participe no nosso webinar em Português sobre o uso da caixa de ferramentas virtuais para uma melhor gestão do lixo marinho!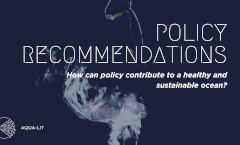 HOW CAN POLICY MAKERS TAKE ACTION?
Check our infographic with some of the recommendations addressed to policymakers, to respond to the gaps that are impeding better marine litter management from the aquaculture sector.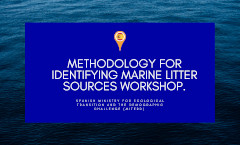 METHODOLOGY FOR IDENTIFYING MARINE LITTER SOURCES WORKSHOP
AQUA-LIT attended through the IEO the "Methodology for Identifying Marine Litter Sources" workshop organized by the Spanish Ministry for Ecological Transition and the Demographic Challenge (MITERD).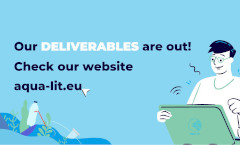 MORE DELIVERABLES ARE OUT!
With just one-quarter of the project ahead, we have now published the work developed in the first half of 2020.
AQUA-LIT AT MARINE LITTER TAIEX-EPPA'S WORKSHOP AQUA-LIT was invited to participate in an online workshop on Managing Marine Litter to be held on September 29th-30th, 2020.

UPCOMING EVENTS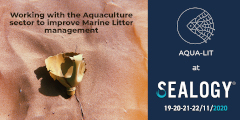 SEALOGY 2020 - CONFERENCE ON BLUE ECONOMY
AQUA-LIT will present in the Marine Litter session its work carried out so far with the aquaculture sector, and will give a preview of the upcoming toolbox!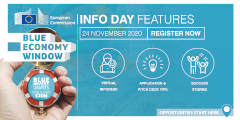 BLUE ECONOMY WINDOW 2020 INFO DAY
Blue Economy Window 2020 | Info Day is a virtual event to officially launch the Blue Economy Window Call for Proposals 2020. Known as the EMFF BlueInvest Grants, the call offers a total budget of € 20 million.
HUMAN HEALTH AND OCEAN SYMPOSIUM
The purpose of the "Human Health and Ocean Symposium" is to provide an update on the various risks human activities expose the oceans to, and the threats that those activities and the resulting ocean degradation pose to human health, but also to consider the various benefits that the Ocean can bring to the health and wellbeing of populations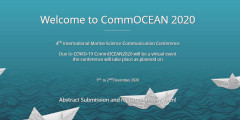 COMMOCEAN - INTERNATIONAL MARINE SCIENCE COMMUNICATION CONFERENCE
CommOCEAN 2020 aims to provide communication skills and inspiration to communicators across a range of experience level

#MARINELITTER Optimism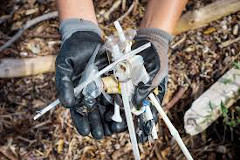 ARTIFICIAL INTELLIGENCE TAKES ON OCEAN TRASH: CLEANING UP THE WORLD'S BEACHES WITH THE HELP OF DATA
Inspiration sometimes arrives in strange ways. Here is the Microsoft story of how a dirty disposable diaper led to the development of an AI solution to help rid the world's coasts of massive amounts of waste and garbage.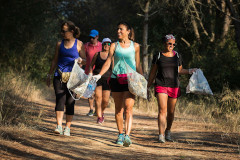 PRACTISING SPORTS WHILE COLLECTING LITTER?
Miquel Ferrés from Palamós, Catalonia, is a fisherman and a keen sportsman. He decided to take action for the well-being of the seas by combining two of his great interests: doing sports and taking care of the marine environment.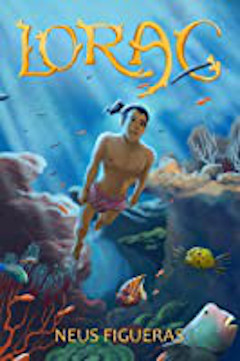 LORAC, THE BOY ON A MISSION TO RESTORE THE BALANCE OF NATURE.
From a marine scientist and writer, Lorac is the story of a young man making his way in the sea and in the readers' hearts to protect our planet.

GIF of this edition
Thank you for reading and caring about tackling marine litter.
Until next edition and happy winter!

This project was funded by the EASME-EMFF EU programme
You are receiving this email because you subscribed to our Newsletter on our website or you attended one of our training courses. If you would like to change your contact details, please send us an e-mail to
aqua-lit@geonardo.com
.
If you do not want to receive the EM Newsletter anymore, please
unsubscribe
.